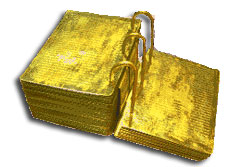 Ben Park at TimesandSeasons has summarized the recent Richard Bushman summer seminar, sponsored by the Neal Maxwell Institute. Excerpts of
"The Cultural History of the Gold Plates": Notes from the 2011 Bushman/Givens Seminar, Part I
--

The Mormon Scholars Foundation Summer Seminar, founded by Richard Bushman and recently co-directed with Terryl Givens, has a tradition of gathering the brightest young Mormon scholars for six weeks to research, engage, and present on specific themes or periods. This year's group was no exception. A dozen participants ranging from an undergraduate majoring in engineering to an Assistant Professor in Religious Studies ... gathered together to explore the theme, "The Cultural History of the Gold Plates." I had the great privilege to attend their presentations today, and what follows is my brief recap, broken into two parts.
Part 1 (summaries of presentations
can be read here)
Stephen Taysom, "Worlds of Discourse, Plates of Gold: Joseph Smith's Plates as Cultural Catalysts."
Benjamin Bascom, "Guarding the Gold: Didactic Fictions and the Mainstreaming of Mormonism."

Jared Halverson, "Fictionalizing Faith: Popular Polemics and the Gold Plates."

Julie Frederick, "What Hath the Earth to Do With the Angels? Sacred Time, Sacred Space, and the Gold Plates."

Tyler Gardner, "Possessing the Plates: The Presence and Absence of the Gold Plates."

Rachael Givens, "Lost Wagonloads: The Disappearance of the Book of Mormon's Sealed Portion."

Part 2 (summaries of presentations
can be read here
)
Sarah Reed, "Fantasy, Fraud, and Freud: The Uncanny Gold Plates in 19th Century Newspaper Accounts."
Elizabeth Mott, "The Forbidden Gaze: The Veiling of the Gold Plates and Joseph Smith's Redefinition of Sacred Space."

Michael Reed, "The Notion of Ancient Metal Records in Joseph Smith's Day."

Caroline Sorensen, "Operation Tumbaga: The Metallurgic Plausibility of the Gold Plates."

Christopher Smith, "Rediscovering Joseph Smith's 'Discovery Narrative' in Southern Utah."

Rachel Gostenhoffer, "In Consequence of Their Wickedness:The Decline and Fall of Mormon Seership, 1838-1900."